Today was Maggie's first physical therapy appointment.  It was such an interesting experience.  I learned SO much.  I think I enjoyed the appointment much more than Maggie did.  Maggie had to work really hard.  I don't think she loved it.  It was tough for her.  She had to use lots of muscles she hasn't normally been using.  Her physical therapist is tough stuff, but also a ton of fun!  It was a little tough for me to watch her cry when they made her try to sit and hold her head up.  However, it is so important for Maggie to develop these motor skills that I just encouraged her through her appointment.  
The physical therapist was really good at explaining the evaluation of Maggie to me.  Maggie, neurologically, is developing perfectly normal.  This means that the incident (as I like to call it), has had no long-term or permanent effect!  However, Maggie's time in the hospital and the feeding tube after she got home has caused some developmental delays.  Maggie is actually still scoring appropriately for her adjusted age of 2.5 months.  However, she is very delayed for her actual age of 4.5 months.  So, this is where we have some work to do.  We are trying to catch her up to her brother and sister. 
We will going to physical therapy every other week for a while.  As Maggie progresses, we will go less and less until we are discharged from PT.  I am so glad they are being aggressive with Maggie's treatment.  They say it is easier to treat her now than try to "catch up" later.  We have "homework" to do over the next two weeks.  We are hoping it will help develop her back and neck muscles.  We will see how she does!  I have no idea what to expect over the next weeks and months.  I just want Maggie to be the best she can be.  I already love her (and her brother and sister) more than words will ever say!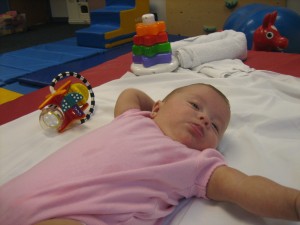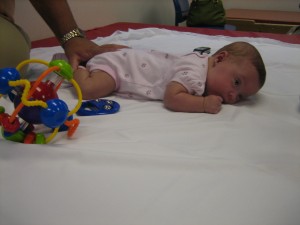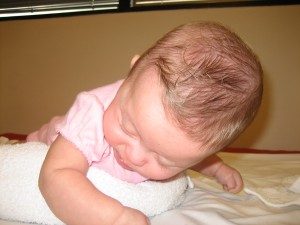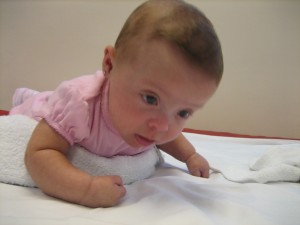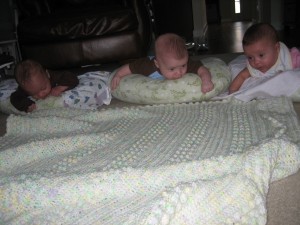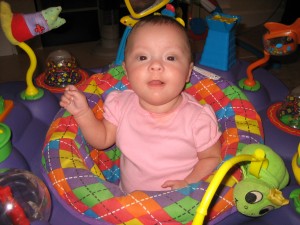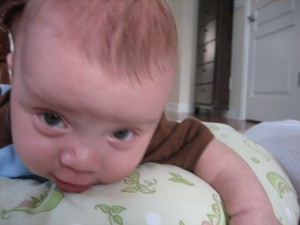 Ginny