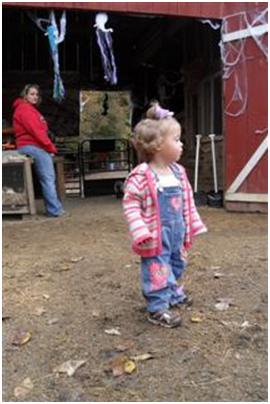 Okay, so I admit it. Maggie and I have a bond. She is not my favorite, but she is my favorite Maggie. I also have a favorite Evie and a favorite Josh. They are all my favorites. Maggie has amazed me though. Today is one of those days I could just burst with joy. Maggie had physical therapy. Cheryl, her therapist, was completely impressed by her! She said Maggie's at least 18 months developmentally if not more! Is that not AMAZING! Last year at this time she could not roll over. She could not sit up. She was struggling with eating because of reflux. All in all, it was rough this time last year.
From the time Maggie started physical therapy, she had tons of hurdles to cross. She had to learn to eat from a bottle again. She had to lift her head during tummy time. Then, to make matters worse, we had to rule out some major issues with her. In the end, it was all normal. Honestly, it was an awful time for me. Through it all, I learned so much about myself. I learned HOW MUCH I loved Maggie. I learned that no matter the problem I was going to help her be the best Maggie she could be. I didn't care about labels anymore. I only loved Maggie for exactly who she was and would be in the future. Nothing mattered to me but my love for her.
Maggie has had many phases personality wise in the past 18 months. Not all of them have been pleasant. She is a smart little cookie! She learned fast that crying got her held while in the hospital. Once we got home the wailing got MUCH worse. That was a horrendous phase for me and her Daddy. We had to break her of that because we couldn't hold her 24 hours a day the way she wanted us to hold her. She would cry so much she would throw up. Boy that was brutal. After we got through that hurdle, then she learned to walk….then run! Now, I'm chasing her everywhere! There are challenges for sure, but it is all so worth it!! She definitely has a very strong will and hurdles her body on the floor throwing temper tantrums quite frequently. However, I really think her strong will and feistiness is what has allowed her to overcome so much.
Anyways, Maggie only has two more physical therapy sessions left! It still amazes me how far she come! I know she would not be where she it today had it not been for Cheryl. Her love, support, and toughness with Maggie have been a godsend. She helped me learn how to handle Maggie's strong will. She showed me exercises to do with Maggie at home. She has been my therapy when I didn't know how much more I could take. She has become our friend. I'm lucky Josh is still in PT. I'm not ready to lose my weekly visits with her. Granted, I am certain we will keep in touch. She has meant way too much to me!
To all you moms who are struggling with different issues with your kids, hang in there. I promise a better day will come. There have been times I didn't think I would get to this point. Just look at Maggie. She is an answer to prayer. Thank you to everyone who has prayed for her over the past 17 months.
I love you all.
Ginny