Yep!  You guessed right!  Josh and I went on a date, and I was a total girl!  First, I have to tell Aaji thanks for watching the girls. It made my day perfect knowing the girls were happy, and Josh and I were getting to spend a little time together.  Thank you so much Aaji!
Josh had physical therapy, and I had to work Thursday night.  I knew there was no way I could take all three kids with me, entertain the girls while Josh was in the pool, feed all three kids, and take care of patients at work that night.  There was no way I could physically do that.  That's the reason why Josh and I got to go alone to PT.  Aaji had mercy on me!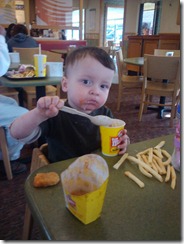 After therapy, since I didn't pack a lunch for Josh, we went to Wendy's.  It was so neat to watch Josh just blossom on his own.  He loved having my undivided attention, and I loved giving it to him!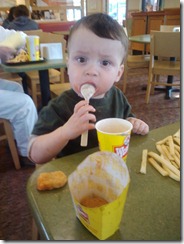 I got to watch him transfer the fries and nuggets back and forth between containers.  However, he was flirting with the girl sitting at the booth next to us.  I was a little jealous….however she was a pretty darn cute 14 month old girl!  She seemed to like him too!  It was so precious!  I can already tell my heart will be happily broken one day when he meets Miss Right.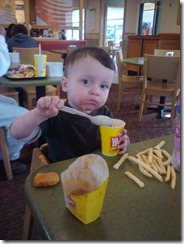 I did give him his first Frosty while we were there.  I'm still tops on his list right now!  I know how to charm a man with food!!!!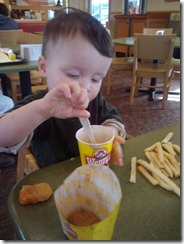 It was so special getting to spend time with Josh that it actually made me cry.  I was so happy sitting there talking with him.  It's one of those moments I'll never forget!
I love you all.
Ginny