Don't say it at all!!
That would be a perfect description of a very large part of this past week.  However, they redeemed themselves on Friday and turned back into the children I know!  Thank goodness!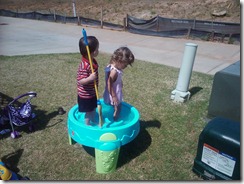 Josh with the broom and Maggie!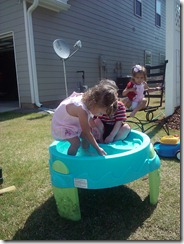 I just wish they would have stayed sitting down!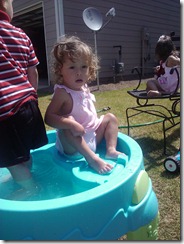 Maggie doesn't think her side has enough water!
I got the water table out for the kids play with on one beautiful Friday morning.  Well, before I could look up, they weren't standing around the table splashing and playing, they had all climbed into the table!  Oh my goodness! I guess my kids like the water a little bit :)!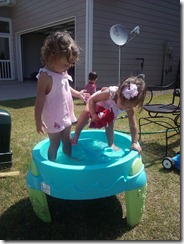 Evie would like to "share" Maggie's side!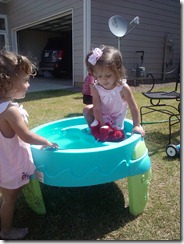 Much better!  Evie has the entire table now!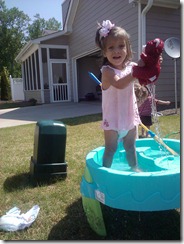 She's "King of the world!!" (Think Titanic folks!)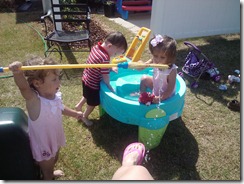 Maggie doesn't give in that easily….she has the broom!
I did consider scolding them and making them get out.  Then, I though"nah" this is fun too!  This was one time it just wasn't worth it to try and change the situation!!  We all had a blast!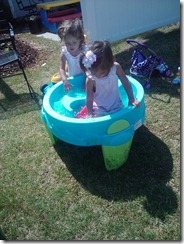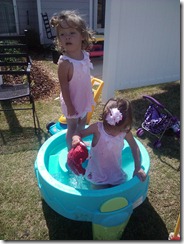 Evie would not leave the poor teddy bear out of the fun.
The kids climbed in and out and in and out of the table.  We only had one fall, and that was Maggie…no real surprise there!  We did have numerous power struggles over who had "control" of the water table.  It was funny, yet not funny, to see how they know how to not share.  I promise you I'm NOT teaching them that bad habit.  Life with three self centered (as every other kid their age is too) two year olds is interesting…….!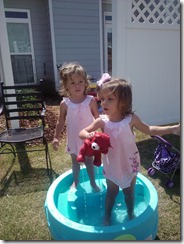 My two princesses!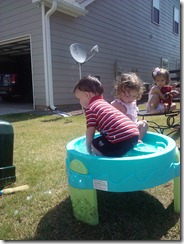 Wild!  Wild!  Wild!
It was a fun and special time.  I can tell the little pool in our backyard is going to be used constantly!  I have no complaints.  Our yard will have a fence in a week or so, and I will be happy to spend all of our times outdoors in the water!  I am so lucky to have three strong willed, yet loving children….even if there is some pushing and shoving from time to time!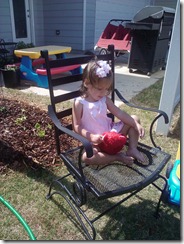 Evie looks WAY too grown up here

I love you all.
Ginny