There are several traditions in Atlanta around Christmas.  The kids got to experience two of them for the first time ever today. 
First, I took them to Phipps Plaza to see Santa Claus.  To get to visit with Santa, I had to make an appointment months ago.  As I scheduled the appointment, I knew the visit probably wouldn't go smoothly.  However, I was totally willing to risk it.  Maggie screamed through most of the visit.  Josh was only interested in the Christmas trees behind us.  Evie wouldn't let me go.  So, poor Santa got shoved out of his chair, and I got to sit in it!  Santa sweetly stood behind us for our photo.  After the attempt at taking a photo, Santa began talking to the kids about what they want for Christmas.  He was so sweet and kind to them.  Evie was the only one who warmed up to him, but it was precious.  She even gave him a hug.  It just melted my heart.
For the fact that the kids were so skittish, I still dropped a lot of money there!  I had to get an ornament with the photo of us and Santa.  I also ended up buying the DVD of Santa talking with the kids.  I had to do that.  Evie was just so adorable.  Then, I had to buy a picture to commemorate the event.  It sure was worth it!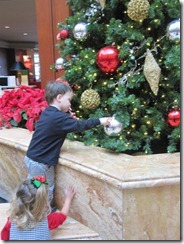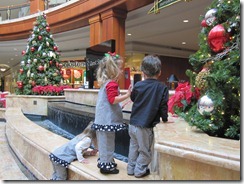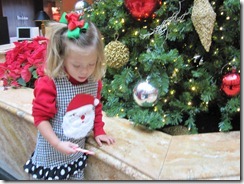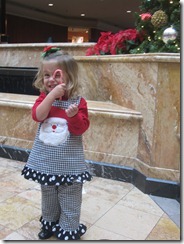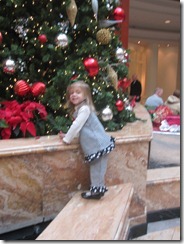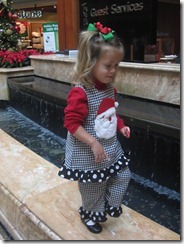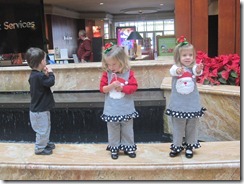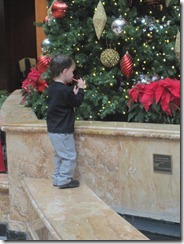 Aren't they adorable in their outfits?!??!  I took all these pictures after visiting with Santa!
I took the kids for a high end lunch at Chick-fil-a while we were there!   It was so, so nice that all of them sat in their chairs and ate without a battle!  They are growing up…I think!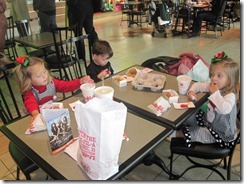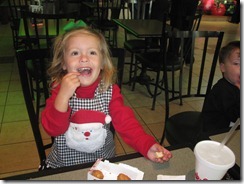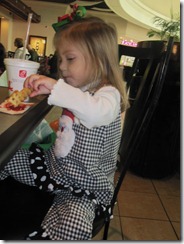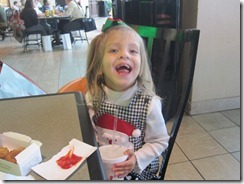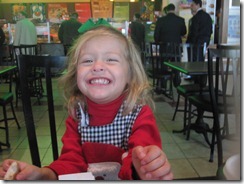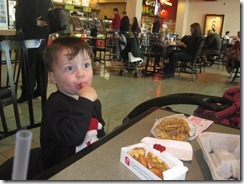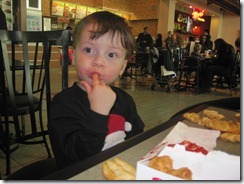 After we left Phipps, I planned on taking the kids directly home.  However, Evie had to use the potty.  So, I had to pull over, get the potty out, and let Evie tee-tee.  I looked up and realized we were directly across from Lenox Mall and the Pink Pig. 
I had to do it.  I just had to.  So, off we went.  The kids were so excited to get to ride a choo-choo train.  Then, they saw the pig and were in love!  Josh and Evie were big kids and rode together.  Maggie needed her mommy, so I sat with her.  We all loved it.  We are definitely planning on going to ride it again soon and taking Daddy with us!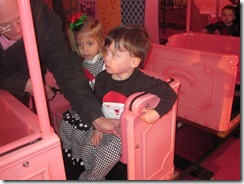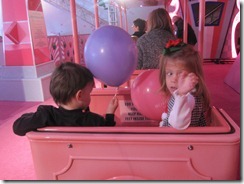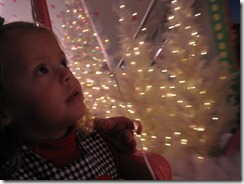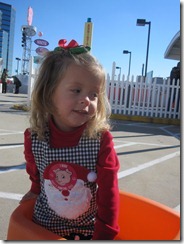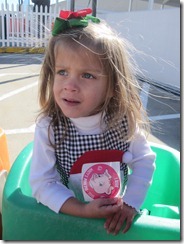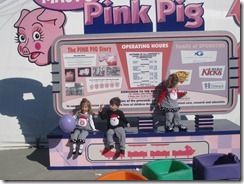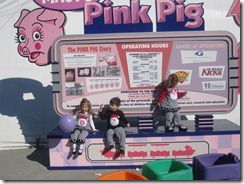 Oh yeah!  Also, I pointed out the Great Tree on top of Macy's!  Evie loved it the most.  How fun!  I do know I'm so lucky getting to be home with my kids and taking them to all of these fun places.  It may be hard some days, but I'll never complain!
I love you all.
Ginny