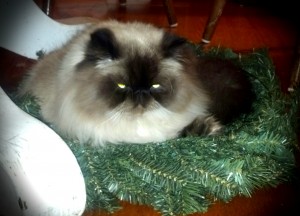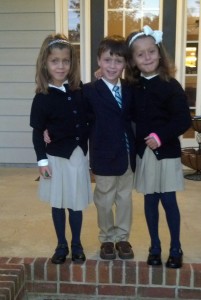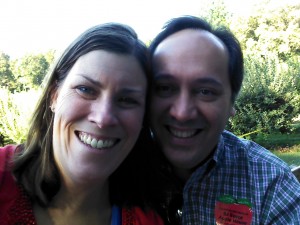 Wow!  Life sure has happened around here!  My "babies" are now 5 1/2 years old!  I'm still not sure where the time has gone.  They're now in KINDERGARTEN!!!!  EEK!!!!  This year (and hopefully only this year) they are in the same class.  I will say they have an awesome teacher.  God definitely had his hand in making sure they are together this year.  I think it's really stretching the kids.  They are learning how to hand each other and friends in a group.  It has definitely been a challenge.  Their wonderful teacher keeps me completely in the loop regarding behavior and development.  It's wonderful.
Raj and I did decide to send them to a private Christian school.  Financially, it may not be the the easiest, but it is most assuredly where they need to be!
I'm still working as a nurse midwife part-time!  It's a great job for me.  I'm back with my first practice I ever worked with at Northside Hospital.  It's so wonderful to finally be at a place where I know I should be right now.  I even caught the first baby of the new year this year in Atlanta!  That's definitely a first!!!!
The girls are taking gymnastics and loving it!  I have finally found what Josh loves to do!  He loves Legos!  I even found a place where he can take elementary robotics.  I know he will go nuts once it starts!!!
We have a new fur baby in our house.  His name is Max.  Often times we call him "Max the Cat" instead.  He is a sweet, pure bred Himalayan.  He reminds me a lot of my old cat named Moe.  However, he seems to have more the temperament of Moe's brother Joe!  He's definitely a sweet boy.  However, I would be much happier if he liked to sit or lay with me.  His favorite two people in the house are Josh and Raj.  That's no fair (insert pouty face).
We lost our sweet Zoe the summer of 2013.  We all still miss her and talk about her.  She sure was a great cat.  Too bad the last year of her life she had to endure a rambunctious cat name Max who always wanted her to play.  She was never really interested.  I was lucky she would always snuggle with me.  Oh how I miss that sweet girl.
Raj is doing great!  I haven't forgotten about him!  He is super involved in the Computer Historical Society in our area.  Now we have a reason for all the Commodore 64 and Apple 2′s laying around our house!!!  Plus, it makes him happy, and I love that even more!
I'll start posting more recent kid activity with my next post!
I love you all.
Ginny