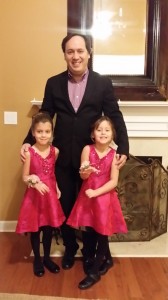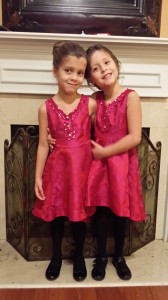 Raj took the girls to their first father-daughter dance this past weekend.  The dance was a school event, and a HUGE deal!  I was so excited for the girls and Raj.  I knew it would be a special night for them, and I wanted to do everything I could to help make it special.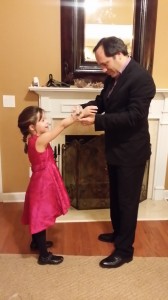 The girls and I went shopping for dresses.  I felt we were prom dress shopping.  I really tugged all of my heartstrings.  It gave me a weird to think about prom dress, then wedding dress shopping with them.  The girls tried on what felt like 50 dresses!  Their personalities really came out during this process.  Maggie, my dress up girl, whipped those dresses on and off with quick ease.  Evie, on the other hand, wanted me to help her get in and out of every dress like I was her lady in waiting!  It really cracked me up!!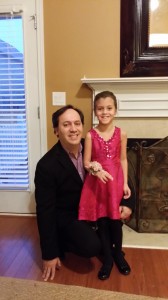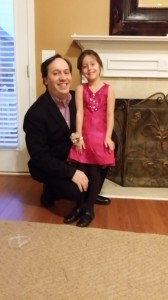 I tried to get the girls to pick different dresses, however that didn't happen.  They picked the same exact dress!  Crack me up!  I even tried to talk them out of matching dresses, but it wasn't going to happen!  I guess their special bond goes all the way to dressy dresses!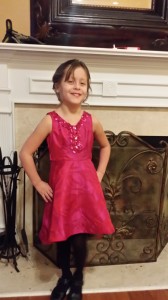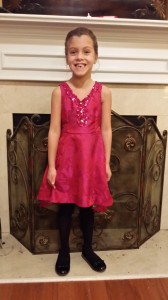 The day of the dance, I took them to get their hair done.  If you know anything about me, you know I have no ability to do anything with hair!  I decided it was safer to pay and have it done!  The girls loved every second o fit!  Maggie wanted hair that looked like Elsa from the movie "Frozen".  This ended up being just a french braid!  We couldn't talk her into doing anything else with it!  Wow, that girl scertainly has her opinions!  Evie wanted a "princess bun"!  The hair stylist kept telling her that her hair may be too short and layered to do it that way.  Evie would not hear of it.  Luckily the hairstyle worked!!!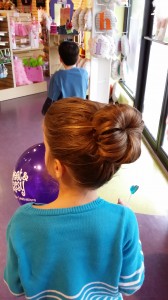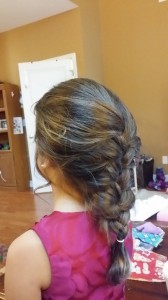 The girls looked like princesses going to the "ball" that night.  They sure did have one proud daddy taking them on their "date"!  My girls sure are learning early how they should be treated by men because their daddy is the best in the world!  Raj got them each a corsage to wear.  Melt my heart!  How precious!  He took them to dinner at Hibachi, since he know how much the girls love going there.  Then, off to the dance they went!  They dance, ran around with their friends and made memories to last a lifetime!  Raj is already excited about next years dance!
We are so lucky for the blessings we have in our lives including our school and children!!!!!
I love you all.
Ginny