So I have the greatest thing these days!  It's called help!  I have a friend watching the kids two days each week for four hours each time.  It's really odd for me to have help.  I've really never had any on a guaranteed, regular basis.  I've felt a little at a loss.  I need the time to be able to rest, but it's still a challenge for me.
So……..
I have decided one afternoon each week, I am going to take ONE child to lunch after school.  Alone.  No competing for my attention.  Just that one kiddo.  It's hard being a triplet.  It's hard being a triplet mom.  I really feel like the kids need more one on one time than I have been able to give to them.  Now, I actually am able to give them that time!!!
Today was Evie's day!  Yes, I am doing this in birth order.  It's just easier for my brain!  Evie was so excited to get to go with me.  I let her decide where we were going to eat lunch.  She chose Wendy's.  That was definitely not my first choice, but it was her choice.  I was happy to oblige.  Time with her is special no matter the restaurant!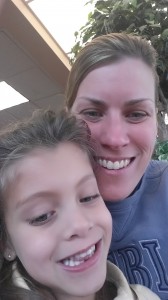 We had a blast.  She talked nonstop.  Granted, this is Evie.  Her talking nonstop is not a surprise!  She sat right next to me as we ate. It was so sweet how she just wanted to snuggle.  She asked me five million questions.  Most of them I didn't know the answer!  I had questions like, "How do they make bubble gum?' and "Did God make pickles?"!  Oh sweet Evie.  My life would be so boring without her!
We even went to the grocery store together after lunch!  Yeah, I caved and bought her Gushers as a treat!  She sure did like picking out most of my "groceries". My grocery bill may have been a little higher, but it was fun!  It's amazing what kids will be happy to do when they get some extra time.  The grocery store is can be awesome!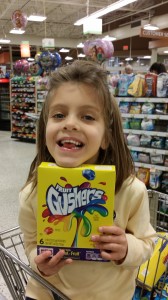 I can't wait until my date with Maggie next week!  I have a feeling she'll being picking pasta or pizza for lunch!
I love you all.
Ginny